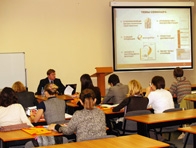 Training seminar in Ufa
On October, 19th in a conference hall of the academic center GAU RNTIK "Bashtekhinform" the employees of ROLS ISOMARKET company technical department carried out a training seminar for specialists of design organizations of the Republic of Bashkortostan dedicated to the Designing of Energoflex® technical insulation in engineering networks".
In total, 34 specialists took part in the seminar work from 21 design organizations of the region.
The first part of the report was dedicated to the description of characteristics and areas of application of Energoflex® technical insulation.
The main part of the report contained a detailed analysis of the modern tools for the designing insulation constructions with the use of Energoflex® materials: the album "Standard building constructions of products and units, Series 5.904.9-78.08", the Organization Standard on designing STO 59705183-001-2007 and the calculation program for insulation constructions EnFlex4. Also, the Organization Standard for products STO 59705183-002-2009 was presented.
The final part of the seminar was dedicated to the answers to questions of the participants.
By tradition, all participants present were given a complete set of regulatory and information materials on the use of Energoflex® insulation, and granted personal certificates on the training course.
We express sincere gratitude to all participants of the seminar for their interest and we are grateful to the employees of the academic center GAU RNTIK "Bashtekhinform" for their help in the event arrangement.